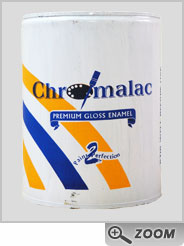 Chromalac – Quick Drying Synthetic Enamel Paint
• Product Description
Alkyd based general purpose synthetic enamel.It is durable & resistance to moderate atmosphere. It is dries to give gloss finish.It also has excellent weather resistance.

• Uses
Suitable for interior and exterior surfaces. Apply on metal surface and wood surface. Apply 1st coat suitable primer on base surface then apply this enamel paint 2 coat.